Aquasonic ultrasound gel based on the same "can't be copied" formula of the World Standard, Aquasonic® 100 Ultrasound Transmission Gel, without fragrance or color. For diagnostic and therapeutic medical ultrasound procedures.
This highly moisturizing and thick liquid gel is easy to use and a must-have when using FetalPlus at-home fetal doppler. It allows eliminating any static noises when in contact with your skin. It is easy to wash off and clean.
Features:
• No fragrance or color.
• Acoustically correct for the broad range of frequencies used.
• Hypoallergenic, bacteriostatic, non-irritating.
• Water soluble.
• No formaldehyde.
• Not a spermicide.
Listen To Your Baby's Heartbeats In 3 Easy Steps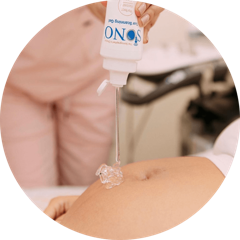 Step 1
- Connect the probe to the main device

- Turn the device on
- Use generous amount of gel to reduce static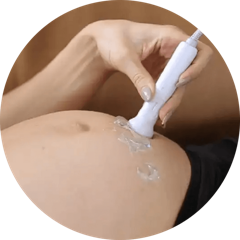 Step 2

Move the probe around slowly until clear and rhythmic heart sound is heard from the headphone or speaker.Stop moving the probe, wait for about 15 seconds for the BPM reading to come up and settle down once the probe picks up the heartrate.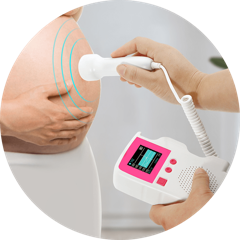 Step 3

Listen to the fetal heartbeats.
and share every exciting event.

A typical fetal heart rate is between 120 and 160 beats per minute (BPM).
Fetal Heart Position Reference Map
Fetal Heart Position Reference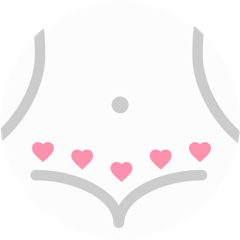 Early Stage

(before 20 weeks)
5 points right below the navel or nearby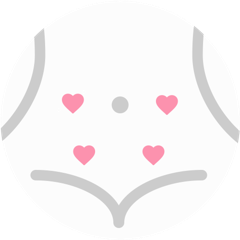 Medium Stage

(24-32 weeks)
4 points on the right/left sides of the navel or on
the right/left sides below the navel
*As the fetus grows, the fetal heartposition moves upward gradually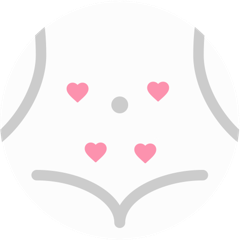 Late Stage

(32-40 weeks)
4 points on the right/left sides of the navel or on
the right/left sides below the navel
*Fetal heart is generally on the left if the fetal movement feels on the right side and vice versa.
Best Times to Listen to My Little One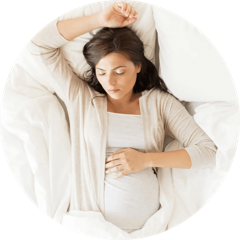 30 Minutes After Waking Up
First thing in the morning and before
you use the bathroom.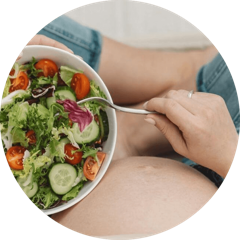 30 Minutes After Lunch

Babies are generally active after meals. Get yourself into a comfortable position after lunch and give a try.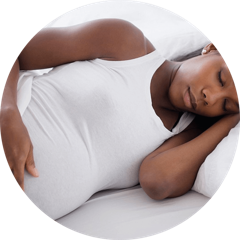 30 Minutes Before Sleep

Babies are likely to be in a stable position at this time, which means fetal heartbeats are earsier to locate.